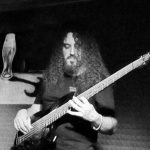 Francesco Mormile
Nato a Napoli il 19/02/1981, cresciuto con i grandi classici del Rock, approda al metal all'eta' di 9 anni rimanendo folgorato da "Piece of Mind" degli Iron Maiden.
A 13 anni inizia lo studio della chitarra da autodidatta guidato dalla passione per le sonorità rock e metal. A 14 anni si converte al basso e un paio di anni dopo inizia a suonare in diverse cover band locali. A 18 anni intraprende gli studi di basso elettrico presso l'accademia musicale Lizard di Firenze, estendendo i propri orizzonti musicali specialmente verso il Jazz.
Nel 1999 approda nella prog-metal band dei Mind Key con cui registra "Welcome to another reality". Nel 2000 si trasferisce a Firenze, continuando gli studi e suonando in numerose formazioni rock, jazz, funky e metal. Nel 2004 si stabilisce a Roma dove continua a suonare in diverse formazioni e nel 2014 insieme a Daniele Caruso inizia l'avventura degli Enigmatic Chaos…il resto non tarderete a scoprirlo.
My Gears:
Instruments: Musicman Bongo 6 Stealth Black, Musicman Sting Ray V, Tobias Renegade 5 strings, Ibanez Roadbass 808
Amplification: Eden Nemesis NC200 4×10
Effects: multiple stuff by MXR, Mesa Boogie, Boss, TC Electronics